Elevate the Hardscaping at Your Round Rock, TX, Home with Sandstone Pavers
There's nothing better than enjoying a beautiful, sunny day, on a patio that's made of natural stone. Sandstone pavers have long been a choice for homeowners that are looking to get the stunning beauty of natural stone for their patio. Residents of Round Rock, TX, who want to have sandstone pavers for their deck, patio, or other hardscaping project, can turn to the local experts at ASAP Stone & Landscape Supply. We have a wide array of pavers and other natural stone products, sourced from Texas and beyond, to fit your needs.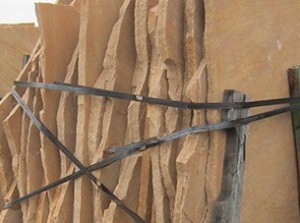 Sandstone Pavers Provide the Earth Tones You Want for Your Deck
One of the reasons that sandstone has been an architectural stone of choice for so long is because of its earthy attractiveness. Sandstone pavers embody this classic aesthetic and look beautiful in almost any design scheme.
But besides looking fantastic, sandstone pavers have many attributes that make them well-suited for decks and patios. Texturally, sandstone feels great to stand or walk on and is not quite as hard-feeling as some other natural stones. Since it's relatively easy to process, sandstone pavers can also be finished in a number of textures, ranging from a natural hewn surface to a highly polished gleam.
Additionally, sandstone is a great choice in hot places, like Round Rock, TX, because of its thermal characteristics. Sandstone pavers don't retain heat as intensely as other natural stone options. Because of this, patios or decks made of sandstone aren't unbearable even when the temperature rises.
The Round Rock, TX, Source for Sandstone Pavers
If you're interested in using sandstone pavers for your next hardscaping project, turn to ASAP Stone & Landscape Supply. To see some of our stone offerings or to find out more about any of our natural stone products, come check out one of our two local stone yards or contact us today.