Premium Oklahoma Patio Stone Available to Austin, TX, Builders and Homeowners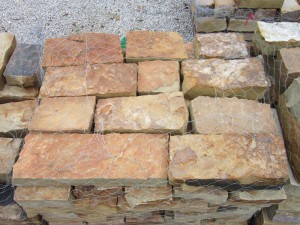 If you require top-quality Oklahoma patio stone for a project in Austin, Texas, or a surrounding area, turn to ASAP Stone and Landscaping Supply. We are the area's leading supplier of natural stone products because we offer an enormous selection at competitive prices and offer the service of friendly, knowledgeable staff to help guide your building project.
The Oklahoma stone that we offer at our stone yards in Austin, TX, is ideal for contractors and do-it-yourself homeowners who want to construct a patio that is beautiful and long lasting. This is because we only offer stone products that have been quarried from deep within the ground, ensuring that it is rich in color and high in density. Plus, because we offer a range of stone types, such as limestone, quartzite, and sandstone, you'll be able to find the ideal match for your application.
In addition to Oklahoma patio stone, ASAP Stone and Landscaping Supply offers products from other regions known for top quality stone, including:
Our outstanding product selection isn't the only reason to choose ASAP Stone and Landscaping Supply for your stone needs. We also offer exceptional service. For example, when you visit one of our stone yards, we'll serve you quickly, helping to keep your project timeline on track. Plus, we can provide same- or next-day delivery. And, if you're unsure about how much of a certain product you'll need to complete a patio or other building project, one of our experts will be happy to assist you.
For more information about our Oklahoma patio stone, call ASAP Stone and Landscaping Supply or stop by one of our two stone yards conveniently located in Austin, TX, today.