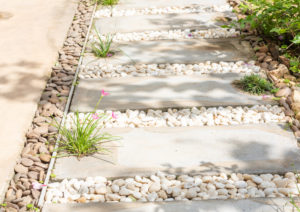 Improve the Hardscape in Your Cedar Park, TX, Yard
Does your yard need a special hardscape touch that plants just can't provide? Whether you need accents, pathways, pavers, or any other kind of stone product, ASAP Stone & Landscape Supply has you covered. We have tons of incredible hardscape products in a variety of styles, minerals, and sizes.
Beautiful Stone Hardscaping
Hardscape refers to anything in landscaping that is not living. Everything from patios to decorative stone falls under this umbrella-term. At ASAP Stone & Landscape Supply, we offer a wide range of products that are perfect for hardscaping your Cedar Park yard. We work with quarries throughout the country, including Texas, to find the perfect stones for a variety of applications.
Here are some of the hardscape products we offer:
Decorative stone, including river rocks in a number of sizes
Belgard pavers, which are concrete pavers that are nationally recognized for high quality
Driveway pavers, including natural stone
Boulders, available in a number of a colors, patterns, and textures
Patio stone, available in concrete or natural stone varieties
We regularly stock limestone, quartzite, flagstone, and sandstone varieties of many of our products so that you can find both the appearance and the characteristics that work best for your project.
The Hardscape Pros
No matter what kind of hardscaping you need for your Cedar Park yard, ASAP Stone & Landscape Supply has you covered. We even offer speedy delivery to many locations to keep your project on schedule. Contact ASAP Stone & Landscape Supply today to find out more, or come visit us at one of our two stone yards.