Cut Limestone Available to Contractors & DIY Renovators in the Pflugerville, TX, Area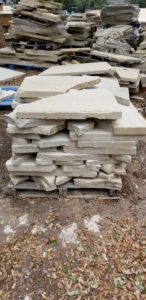 Cut limestone is a popular building material used in a variety of construction and landscaping projects, thanks to its rustic visual appeal and enhanced durability. The best place to acquire cut limestone in the Pflugerville area is ASAP Stone & Landscaping Supply. For over a decade, we have helped customers in the area by providing them with the products they need at reasonable prices. We don't just want to be a supplier for our customers, we want to be a partner by helping them stay on track and under budget.
You Can Expect Speedy Delivery & Helpful Service From ASAP Stone
When it comes to any construction or landscaping project, keeping the timeline on track is incredibly important. That's why we offer same- or next-day delivery on all of our products, making it easier for you to complete your project on time. We also have a staff of friendly and knowledgeable employees who are more than willing to answer any questions you might have. They can even help you determine the amount of cut limestone you need, so you don't waste money by buying too much material or set your project back by not buying enough.
ASAP Stone Has Everything You Need to Complete Your Project
Cut limestone has a variety of benefits, not the least of which is its low price tag. It also offers incredible durability, making it ideal for many applications. However, you may be in the market for other materials as well. Fortunately for you, we also carry:
Sandstone, which has a natural color and a smooth surface, perfect for patios where you are likely to be barefoot
Flagstone, which is commonly used for paving footpaths and building walls
Quartzite, which rivals marble in durability and beauty, but is much more affordable
To browse all of our products firsthand, including our cut limestone blocks, come visit our location, which is just a short drive from Pflugerville.